MCM 454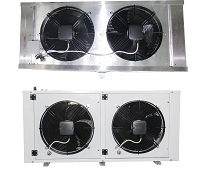 Температурный режим
Среднетемпературные
Intercold products are simple and effective solutions providing a closed operating cycle for the refrigeration systems, "Standart" split-systems are reasonably priced and can successfully compete with analogous systems by leading world and domestic manufacturers.
The split-system consists of two units (indoor and outdoor) and a remote control.
Outdoor unit:
compressor
microchannel condenser
blow fan
drier filter
dual (high and low pressure) protection switch
Indoor unit:
evaporator
blow fan
tubular electric heater for evaporator defrosting
drain pan
Separate Control box!!!
Advantages:
Side arrangement of the fan – protection from rain and snow

Separate control box – easy mounting and control
Casing made of galvanized sheet metal with polymer coating
Optimal model range
System components from the most reliable European manufacturers
Availability of "winter start" options for operation at ambient temperatures:


not less than minus 10°С,
not less than minus 30°С.

Availability of "cooling/heating" option to maintain required temperature by switching between "cooling" and "heating" mode
The indoor unit's casing is made of aluminum.
Technical features
Technical features
Unit
Value
Working temperature
ºС
from -5 to +10
Starting type
Direct
Voltage
V
3~380 50 Hz
Nominal power consumption
kW
4,1
Nominal current
А
8,0
Starting current
А
44
Current max
А
11,4
Refrigerant
R404A
Defrost type
Electrical
Defrost capacity
kW
3,3
Casing material
Painted galvanized steel
Gross weight
kg
160
Compressor
Brand
Tecumseh Europe
Type
Hermetic
Model
TAG4546Z
Air condenser
Fan motor capacity
kW
0,270
Impeller diameter
mm
2x350
Air flow
m3/h
4400
Air cooler
Casing material
Aluminium
Heat exchanging surface
m2
22
Fan motor capacity
kW
0,135
Impeller diameter
mm
350
No. of fan motors
pcs
2
Air flow
m3/h
4520
Fin spacing
mm
4,2
Stream distance
m
7*
Capacity table:
Temperature inside coldroom
Ambient temperature
Q, W
V м3
100 мм
80 мм
+5°C
25
8346
158
144
32
7189
138
126
40
5427
127
116
0°C
25
6767
134
122
32
5751
116
106
40
4216
105
96
-5°C
25
5372
110
100
32
4483
95
86
40
3151
86
78