CCUМ-TFH2511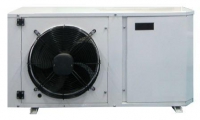 Compressor condensing unit
A condensing unit typically is a high side assembly of a refrigeration system. It is an assembly of compressor, condenser, fan motor, controls and a mounting plate. It has the function of a heat exchanger to cool down and condense the incoming refrigerant vapor into liquid and a fan for blowing outside air through the heat exchanger section to cool the refrigerant inside. Condensing units have various designs and come in many sizes ranging from small units to very large industrial units which mainly used in food and manufacturing processes.
Applications
For cooling various liquids such as soft drinks, juices, dairy products, etc.
For cooling medium and low temperature cold rooms
For shock freezing
For remote refrigeration systems such as display counters, showcases, chillers, etc.
Advantages
Side arrangement of the fan – protection from rain and snow
Separate control box – easy mounting and control
Professional air cooling with fin pitch 6 mm
Various options allows for adapting the unit to all weather conditions and reduction of the androgenic impact on the environment
Controlling an unlimited number numbers of users within the maximum capacity of the compressor
No need to allocate a separate room for the compressor unit
Their usage in warehouses with "seasonal" capacity control (changes of climate or goods turnover) leads to reduction in energy cost
Reduction in capital cost (one big unit is always cheaper than two small ones)
Reduction in installation costs (casing design allows quick outdoor installation / wall mounting)
Separate compressor box
Energy efficiency
Quality,
Reliability
Low-noise
Ergonomic design
Specifications:
Performance EN13215
Environment Temperature
Boiling temperature
-15
-25
-35
25
4264
2923
1787
32
3829
2577
1519
43
3154
2038
1103
Operating current max, A
5
Voltage, V
380V 3~
Electric power, W -(10/-35)
1300
Receiver Volume, L
2,5

Connecting Pipes:

Suction Line

Liquid Line

5/8

3/8

Dimensions, mm
1029х609х533
Weight, kg
100