The meat grinders MIM-300M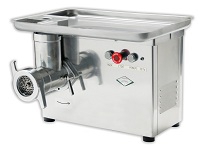 This machine is designed for grinding meat and fish for stuffing, re-grinding of ground meat and for stuffing sausages at catering enterprises . The meat grinder MIM-300M is equipped with worm reducer which provides to grind even heavily trimmed meat. The reverse mode is provided for the convenience of working when screw stops during processing the low quality meat. The machine is issued with facing of stainless steel.
Technical specifications of the machine
Parameter

value

Productivity, kg/h, not less

300

Productivity when re-grinding, kg/h, not less

100

Power of the installed engine, kw/h

1,10

Nominal power consumption, kw

1,44

Engine speed, rpm (revs per min.)

1,85

Supply main:
- type of current
- nominal voltage,V
- frequency, Hz


three-fase, A/C
380
50

Overall dimensions, mm, not more:
- length
- width
- height


560
520
420

Weight, kg, not more

42
The practical productivity of the meat grinder depends on the speed of feeding meat (cut into pieces) to screw, of meat grade, and of quality of tool sharpening.