Shawarma 3 EL M-E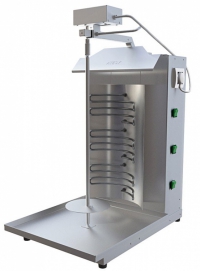 Shawarma Machine is widely used in fast food industries due to their high productivity, simplicity and reliability of application, and most importantly, visibility in the preparation of the product. In our range we have several models which are gas and electric.
In the "Shaurma 2M" and "Shaurma 3M" installations, the meat is prepared by using liquefied gas, which determines the extremely low cost of the products to be produced. The principle of the plant is that the meat cut, cooked according to a special recipe, is placed on a special knife that rotates around its axis near the gas burners to its full readiness. This installation can also be used to prepare shish kebab, as in the design special stands for skewers are provided.
"Shawarma 3M" differs from "Shawarma 2M" with greater productivity due to the availability of more burners.
In the units "Shaurma 2 El M" and "Shaurma 3 El M" heating is carried out by means of tubular electric heaters (TEH). TEHs create infrared radiation, which is focused by screens located between the heaters and the body of the installation, thereby increasing the temperature of frying meat and the speed of its preparation. Electrical motor is used to rotate the skewers. Machines made of high-quality food stainless steel, which determines their strength and gives them a pleasant professional appearance.
| | |
| --- | --- |
| Dimensions (LxWxH), mm | 452х668х893 |
| Number of burners (TEN), pcs | 3 |
| Number of skewers, pcs | - |
| Voltage, V | 220 |
| Power, kW | 4,8 |
| Weight, kg | 22,5 |