PKA-6-1/1VM2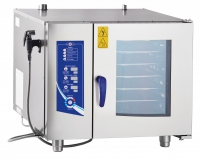 PKA-6-1/1VM2 combi steamer combines reliability and high productivity of the previous models with a number of new technological approaches, which provide still more convenient and easier usage. The combi steamer of an injection type is designated for preparation of various dishes with the help of steam and hot air separately or combined. The steam is generated by water injection into the chamber. Its capacity is of up to 6 GN 1/1. During simultaneous preparation of various dishes, each of them gets its own delicious taste; appetizing and fresh, the food preserves the majority of vitamins and mineral substances.
Key information:
Nominal power consumption., kWt
9,5
Nominal voltage, V
400
Max. temperature within the chamber, °C
270
Tray size
1/1
Number of trays
6
Interlevel distance, mm
70
Number of aerial tubular heating elements
3
Overall dimensions, mm
800х840х775
Weight, kg
120

control panel in English, timer up to 10 hours, tree-point core probe, humidity regulation (from 0 to 100%), maintaining the temperature within a chamber +/- 1°C, 5-speed fan, steam discharge cooling, hand shower, ventilated door with a two-stage opening mechanism, "hands free" door lock, semi-automatic washing process
Automatic controls of the steamer provide five operation modes:
1.Warming up (up to 270° C)
2.Convection (dry heat, up to 270° C)
3.Convection + steam (heat, up to 250° C with periodical water injection)
Additionally, the combi steamer has the following set up parameters:
- timer: from 1 min up to 9 hours 59 min.;
- temperature of the core probe (internal product temperature) preparation time is defined by the temperature of the product;
- humidity control in the chamber volume.
Combi steamer PKA-6-1/1VM2 features a convenient electronic English language control panel, a three-temperature core probe for measuring temperature within a product, a system of moisture control (from 0 to 100%), a system of maintaining the temperature within a chamber +/- 1°C, 5 fan speeds and a built-in system of steam discharge cooling. A ventilated door of the bake oven prevents a risk of scalds to the hands from external side of the door. A new mechanism of the oven door lock is of "hands free" type – the door can be easily closed by a single hand motion. A two-stage opening mechanism of the door protects personnel from risk of getting frizzled by hot steam.
The distance between trays is 70 mm. Automatic controls provide a quick switch-over from standby to operation mode. Low power consumption (comparing to analogues) reduces operational costs for dish preparation. The device is equipped with a hand shower so that the construction can be washed from inside with water. No additional tools are required to remove a fat filter. All the components are made of stainless steel.