MB214 R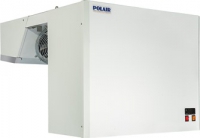 Voltage, V / ph / Hz
230/1/50
The monoblocks are refrigerated medium temperature machines (type MM) and medium temperature machines (type MB) are produced under GOST23833-95 «Refrigirated commercial equipment» and are designed for an operation at an environmental temperature from +5°С to +40°С and relative degree of humanity no more than 80%.
Monoblocks of RF series (backpack implementation) are refrigerated machines, medium temperature as well as low temperature, as opposed to Standard and Professionale series have a micro channel aluminum condensator.
With analogue refrigerating capacity these monoblocks have the following advantages:
decrease in dimensions of heat exchanger block due to bigger exchange surface,
decrease in weight,
decrease in cooling agent consumption for 25-30% in average,
increase in corrosion resistance due to a lack of galvanized corrosion which is typical for a junction of two different metals in a traditional structure of heat exchanger blocks,
decrease in power consumption,
lower price.
The monoblocks are filled with a cooling agent, пtested at a factory and are absolutely ready for a use.
External dimensions, mm
840*738*600
Refrigerant
R404A
Defrost type
electric
Temperature range, °C
not hihger than -18
Voltage, V / ph / Hz
3/N/PE 230/1/50
Rated current, A
4.5
Max. power consumption, kW
1.7
Dose of filling R404, kg
0,42
CONDENSER
Condenser Type
microchannel aluminum
Number of fans
2
Fan power, W /; rev / min
18/1300
Impeller diameter, mm
254
Capacity, m3/hour
1200
AIR-COOLING BATTERY
Air-Cooling Type
cooper-aluminum
Fin spacing, mm
3.6
Surface area, m2
8.93
Number of fans
2
Fan power, W /; rev / min
18/2600
Impeller diameter, mm
200
Capacity, m3/hour
1200
Camera lighting
LED
Сooling capacity at a temperature +32 °C
1485
Logistic information
Netto, kg
77
Brutto, kg
127
Package dimensions, mm
980*910*830