MM113 S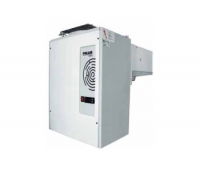 Operating temperature
Middle
Voltage, V / ph / Hz
220/1/50
POLAIR Standard Monoblocks
Monoblocks are mid-temperature (type ММ) and low-temperature (type МВ) refrigerating machines made in compliance with GOST23833-95 Standard for Commercial Refrigerating Equipment. They operate at outside temperatures ranging from +5°С to +40°С and maximum humidity of 80%.
When Winter Set option (outdoor type U) is installed outside temperature must not be lower than -10°С.
Standard monoblock includes:
• light with an incandescent lamp
• network socket
• switch
• socket (for three-phase aggregates)
• water drain pipe
• hinge bracket
• hardware
Additional options can be installed to complement the standard offer:
• Winter Set option for using monoblocks outdoors (at temperatures up to -10°С).
• Remote control unit allowing to install the control unit at some distance from the monoblock.
POLAIR monoblocks are filled with refrigerant; they get tested at the factory and are ready for use.
Defrost type
electric
Temperature range, °C
-5*…+5*
Voltage, V / ph / Hz
220/1/50
Max. power consumption, kW
0,84
Dose of filling R404, kg
0,575
CONDENSER
Fin spacing, mm
3,2
Surface area, m2
6,25
Number of fans
1
Fan power, W /; rev / min
18/1300
Impeller diameter, mm
254
Capacity, m3/hour
600
AIR-COOLING BATTERY
Fin spacing, mm
3.6
Surface area, m2
4,63
Number of fans
1
Fan power, W /; rev / min
18/2600
Impeller diameter, mm
200
Capacity, m3/hour
600
Jet length, m
4
CABLES
External power cable
2х1,5+1х1,5
Camera lighting
2х0,75
Connection of sensors
3х0,75
Logistic information
Netto, kg
58
Brutto, kg
89
Package dimensions, mm
879x563x914